Today, We held English discussion activity "Express Yourself in English !" which is intended to enjoy small talk "Zatsu-Dan" in English, through listening to, talking about and singing a song in English, which lead by Yuko-san, a Jazz singer.
All of you who participated, thank you.

Today's theme song was "Que Será, Será".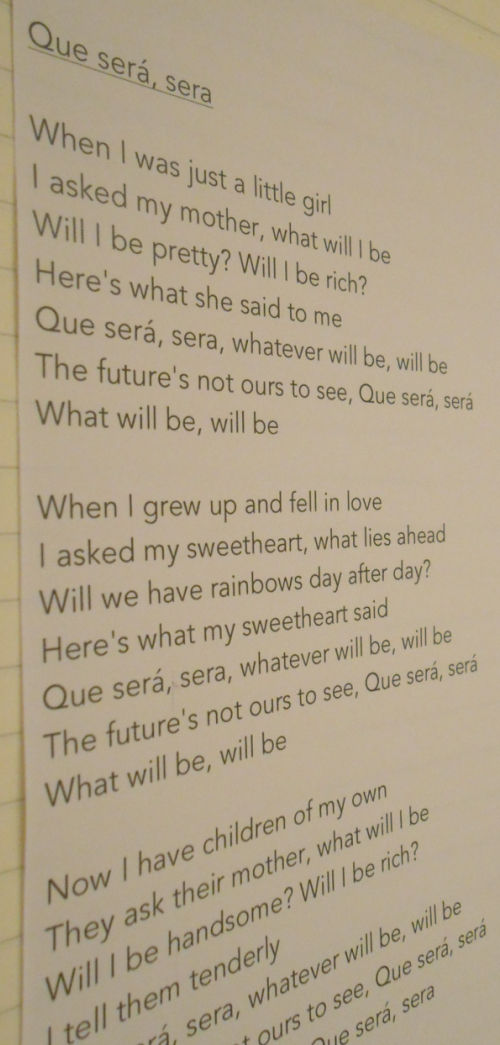 "Que Será, Será (Whatever Will Be, Will Be)", is a popular song introduced in the Alfred Hitchcock film "The Man Who Knew Too Much" in 1956, starring Doris Day and James Stewart in the lead roles.
The three verses of the song progress through the life of the narrator—from childhood, through young adulthood and falling in love, to parenthood—and each asks "What will I be?" or "What lies ahead?"
The chorus repeats the answer: "What will be, will be."

The popularity of the song has led to curiosity about the origins of the saying and the identity of its language. Both the Spanish-like spelling used by Livingston and Evans and an Italian-like form ("che sarà sarà") are first documented in the 16th century as an English heraldic motto.


The saying is always in an English-speaking context, and has no history in Spain, Italy, or France, and in fact is ungrammatical in all three Romance languages.
We did group discussion of the questions that Yuko-san prepared for today.
The questions related to "about own future".

We discussed "the place hope to travel before we die", "own lifetime dream", "the technology hope to have in the future", "how will we change", and "what we wish for the future of our society, country, or the world."

It's wonderful to express own dream and to share.
The next is October 11.
Come and Join us !