Today, We held English discussion activity "Express Yourself in English !" which is intended to enjoy small talk "Zatsu-Dan" in English, through listening to, talking about and singing a song in English, which lead by Yuko-san, a Jazz singer.
All of you who participated, thank you.

Today's theme song was "When You Wish Upon A Star".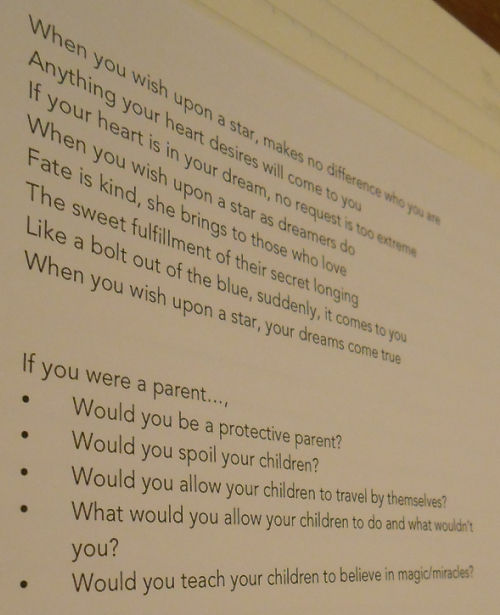 "When You Wish Upon A Star" is a song written for adaptation of Walt Disney's Pinocchio.
The original version was sung by Cliff Edwards in the character of Jiminy Cricket.
This song has since become the representative song of The Walt Disney Company.
And the song won the 1940 Academy Award for Best Original Song, It was also the first Disney song to win an Oscar.
The lyrics of this song tell the message very the U.S.A. like and the Disney movie like,
"If you keep on believing, the dreams that you wish will come true."
Today's discussion theme was "If we were a parent and had children...".

We did group discussion about
"Would you be a protective parent ?"
"Would you spoil your children ?"
"Would you allow your children to travel by themselves ?"
"What would you allow your children to do and what wouldn't you ?"
"Would you teach your children to believe in magic / miracles ?"

Our discussion also became deeply today!


The next is June 7.
See YOU Next time !