Today, We held English discussion activity "Express Yourself in English !" which is intended to enjoy small talk "Zatsu-Dan" in English, through listening to, talking about and singing a song in English, which lead by Yuko-san, a Jazz singer.
All of you who participated, thank you.

Today's theme song was "Cheek to Cheek".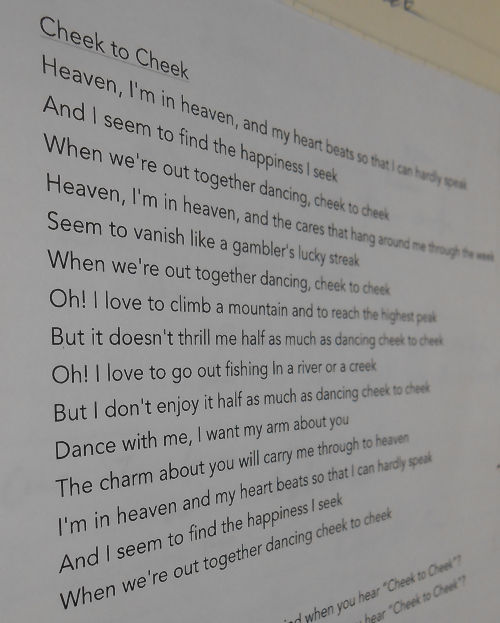 "Cheek to Cheek" is a song written for the Fred Astaire/Ginger Rogers movie Top Hat.
In the movie, Astaire sings the song to Rogers as they dance. The song was nominated for the Best Song Academy Award for 1936.
The lyrics of this song reflect the contents which sang for a woman from a man,
for example "To dance with you is enjoy twice as much as the river fishing" , "To dance with you is thrill twice as much as mountain climbing".

Pronunciation to become the key to this song is pronunciation of "heaven", "dance", "thrill" and the sound of "r" of "arm" and "charm"., Yuko-san adviced.
Today's discussion theme was "the image when we hear "Cheek to Cheek" ".

We did group discussion about
"What words / images come to our mind when we hear "Cheek to Cheek" "
"Discribe the appearance/ the character of the person we would like to go out with ?"
"What are some popular places to go on a date ?"
"What would we like to go on a date ?"
"What do we think of public displays of affection ?"

Our discussion also became lively today!


The next is May 10.
See YOU Next time !