Today, We held English discussion activity "Express Yourself in English !" which is intended to enjoy small talk "Zatsu-Dan" in English, through listening to, talking about and singing a song in English, which lead by Yuko-san, a Jazz singer.
All of you who participated, thank you.

Today's theme song was "Silver Bells".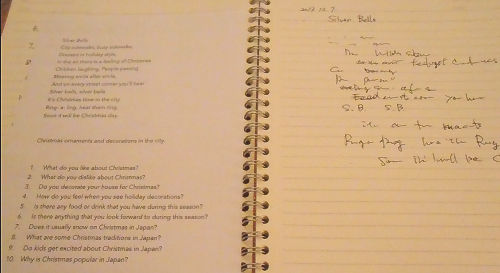 "Silver Bells" is a popular Christmas song, composed by Jay Livingston and Ray Evans.
"Silver Bells" was first performed by Bob Hope and Marilyn Maxwell in the motion picture "The Lemon Drop Kid", released in March 1951.
The first recorded version was by Bing Crosby and Carol Richards on September 8, 1950.
After the Crosby and Richards recording became popular.

"Silver Bells" inspiration came from the bells used by sidewalk Santa Clauses and Salvation Army solicitors on New York City street corners.
it is a song in the air for the wonderful Christmas time in urban holiday season.

Today's discussion theme was "What do you like about Christmas?".


Christmas is the customs that completely adjusted to Japan.
But it becomes Japan's original custom.
In Europe and America, "Christmas" is the family event and is high in religiousness.
On the other hand, it has the image "the event that children looks forward to" or "the event for couples" in Japan.

What do you like or dislike about Christmas ?
The next is January 11.
See YOU Next time !