Today, We held English discussion activity "Express Yourself in English !" which is intended to enjoy small talk "Zatsu-Dan" in English, through listening to, talking about and singing a song in English, which lead by Yuko-san, a Jazz singer.
All of you who participated, thank you.

Today's theme song was "Wouldn't It Be Loverly".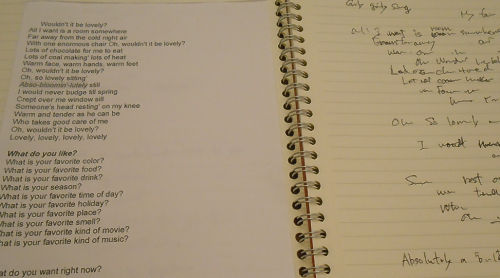 "Wouldn't It Be Loverly" is a popular song, written for the Broadway play My Fair Lady.
The song is sung by flower girl Eliza Doolittle and her street friends.
It expresses Eliza's wish for a better life.
In addition to pronouncing "lovely" as "loverly", the song lyrics highlight other facets of the Cockney accent that Professor Henry Higgins wants to refine away as part of his social experiment.
And "Absolutely" is "abso-bloomin'-lutely" in the lyrics.

The lyrics and the melody are JUST "dreaming girl", very very girly song.

And, today's discussion theme was "What is your favorite ?"
On discussing, Yuko-san advised us to talk "only about the favorite thing" (meant not to talk about "not favorite things").

And we made group discussion about,
"What do you want right now?"
"What do you want to be doing in ten years?"

Wouldn't it be abso-blooming-lutely lovely to share own dreams with friends ?
We thank you all of who shared time pleasant discussions.
The next is July 14.
See YOU Next time !