Today, We held English discussion activity "Express Yourself in English !", heard, talked about and sang a song in English, which lead by Yuko-san, a Jazz singer.
All of you who participated, thank you.

Today's theme song was "What A Wonderful World".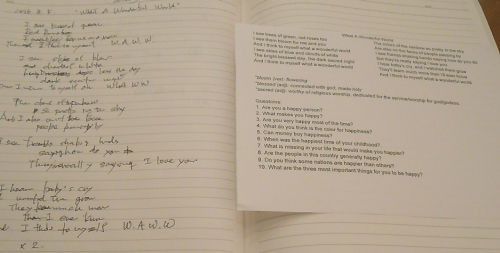 It is the famous tune which Louis Armstrong, also known as Satchmo sang.
But there seem to be many people who do not know this music in young Americans, Yuko-san said.
This song is sang about the race problem, then it might not become popular because the lyrics were too over "Sweet", Yuko-san said.
The pronunciation point with this song is "blessed".
"blessed" pronounces "ed" "t" with the verb, but pronounces it "id" with the adjective.
"blessed" of the adjective is used with this song.
The theme of the discussion that Yuko-san prepared for was "Happy".
In a discussion, it became the topic "Does Japanese feel happy?"
"
Are YOU a happy person?
"